First Team & Team Kids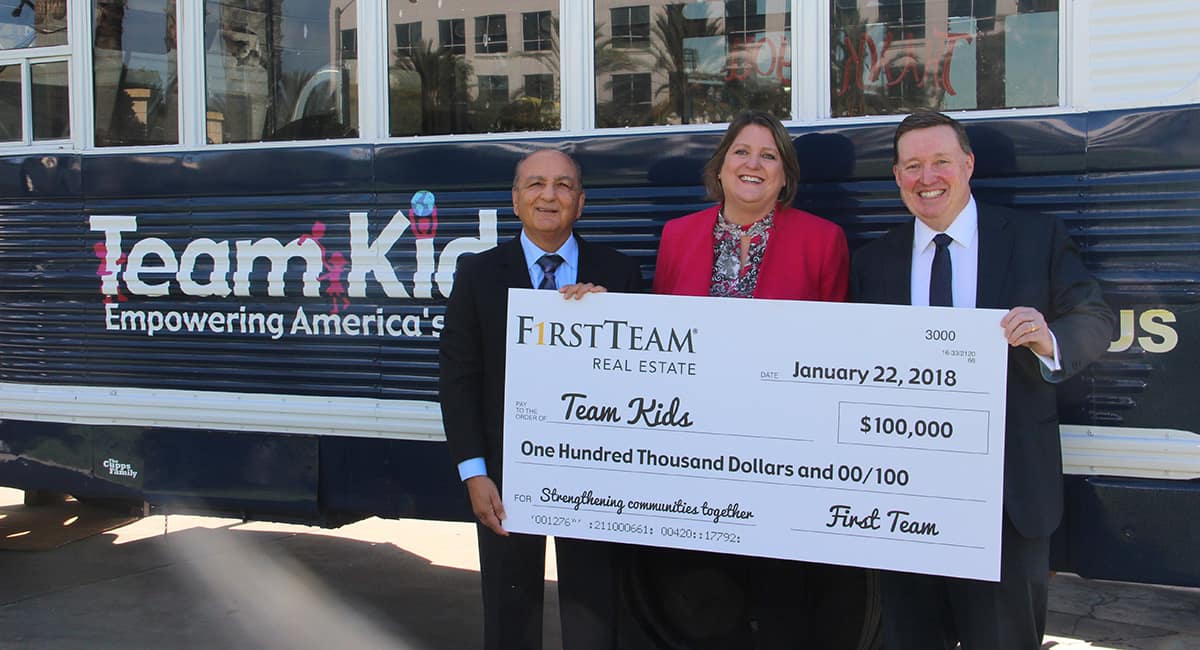 We share more than just 50% of our name with Team Kids, we share a vision for strengthening communities through service and compassion. As Team Kids Ambassadors, we're leading efforts to serve in our communities and fundraise for Team Kids.
Through our partnership with Team Kids —called the Team Kids Superhero Program—real estate agents serve as mentors to children in their communities, guiding them through various challenges that allow them to make a difference and earn recognition for it.
"Through the Superhero program, kids will be presented with challenges to complete, such as bringing blankets to an animal shelter or writing a thank you note to someone in the military," Hudash explained. "Once they complete these challenges, the real estate agents will present them with certificates thanking them for their contributions and for helping to make their own community a better place."
The Superhero Program, and our affiliation with Team Kids, is part of our organization's overarching mission to make a difference in the communities we call home.
Testimonials
" John creates a professional and personal relationship in your real estate needs. He keeps you well informed through the entire process. We have found him to be aggressive yet not offensive with the other parties. Any concern we have had have been addressed and taken care of in confidence and efficiency. We have had John represent us in several transactions and will continue in the future. We highly recommend John and have made numerous referrals to our family and friends. "
- Bart Schwartz
" John has assisted me on several homes and properties. I always have full confidence in his taking care of my real estate needs. His communications are always timely and he keeps me informed, no surprises with John. I am impressed with his personal commitment to my needs and his passion his profession. I highly recommend John and his team for your real estate endeavors, whether it be purchasing or selling. "
- Bart Schwarz
" I have known John for years . We have used him for all our real estate transactions over the past 10 years . Always fast no beating around the bush . Honest and reliable day and night was always available for any questions. "
- Christopher D. Walter Sally Walter
" We would recommend this team without hesitation. "
- Sebastian Crisafulli & Delia Beals
" My Family has had John as our agent for many years "
- Nadine Riedesel
" John is extremely professional and takes his clients needs very seriously. It is very comforting to know that John is representing you in all of your real estate needs. Highly recommended. "
- Bart Schwartz
" It was great to work with John again. I wish he was out in Surprise AZ to help us with our new house. Thank You John. "
- Randy Rebenschied Sharon Rebenschied
" We are so very pleased with having the opportunity to meet and work with Lauren Klein. Lauren is professional, sharp, a go getter! Also, Lauren did a great job "staging" our property! When we had issues or concerns and relayed them to Lauren, she was extremely efficient, handled all of our concerns promptly & professionally. On top of that, Lauren is a natural ray of sunshine????! As far as we are concerned, It was a "win, win" for us the seller, the buyers and First Team Real Estate.???? "
- Ronald Turner
" I actually worked with Michele Pavlovsky who was very professional, went way beyond the call of duty, was always available for questions or to get things done, found a home for me on the first day of looking. John Moran was there any time I needed answers, but Michele did everything I needed. "
- Eve Newey
" John is amazing! I have full confidence that he will negotiate for my best interest, get me the best deal, work to sell my house, and be 100% honest with me while doing it. I would recommend him to anyone and will use him in the future. "
- Andrea Mann
" Very professional and helpful. "
- Adolfo Flores Brittney Flores
" one hell of a realtor but more important he knows how to get the job done. don't let this guy go if you can help it. "
- Blanche D. Hagopian Elizabeth A. Morrison Peter
" My parents home sold within 3 weeks and much of the process was facilitated by on line signings as my parents had moved out of the area. The responsiveness of the agent (Kelly) was very strong. Bryan Cole "
- The Roy William Cole and Kathleen M. Cole Trust
" Leah Slumpff was amazing. She quickly responded to all of our questions regarding houses. She worked really hard to find us the right place!!! "
- Matthew Marchante Veronica Elder
" John was the best . Alway returned my calls and kept me up to date daily. Thanks john your truly a professional. "
- Tye Allon & Carrie Leann Bayless
" We had the pleasure of being represented by Michele Pavlovsky in the purchase of an investment property in Temecula. She was incredibly responsive to our questions, placed a number of offers for us, and was able to guide us to the best property for our needs. Michele did a fantastic job! She made the whole process enjoyable and we strongly recommend her and the John Moran team! Thanks! "
- Ian Zakrzewski Madeline Slater
" I had a great experience. "
- Scott & Anita Hadley
" John is a very professional agent. He helped us find the perfect house, negotiated the price , then he managed the sale very smoothly and very professional. He is a very pleasant person to work with, always listen and find the right solutions. I would highly recommend him to everyone. "
- Talma Rotman
Previous
Next